Blue Christmas
Blue Christmas
Blue Christmas
When Andrea Corr pitched Ronnie Wood to perform on their new Irish hospice charity duet single, Blue Christmas, she says the Rolling Stones musician was instantly happy to oblige.
Andrea Corr has been an Ambassador of Our Lady's Hospice & Care Services in recent years – and this festive season decided to record a record for the hospice.
"I wanted to record a song for the hospice, and I thought of Blue Christmas because I love the song and I love Elvis, This was Elvis's favourite song."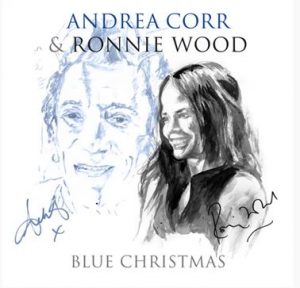 Blue Christmas by Andrea Corr & Ronnie Wood
Andrea was our Light Up A Life guest of honour in 2019 and again in 2021,  asked to turn on the Christmas lights in Harold's Cross in 2019, it was the first time that she got an insight into the care it provides for people at the end of their lives.
"I met patients and was shown around palliative care. I returned a couple of weeks later to sing a few Christmas songs for their Light Up A Life ceremony, where people remember those who have gone. It's so beautiful."
"The thing I always find so moving, and the most true love, is the love that some stranger has towards your dying relative. The staff, they are so happy and there's a serenity and a timelessness there – you don't know if it's day or night. "
"Dad used to say, 'Christmas is a time of absences,' after Mum passed. The Light Up A Life ceremony recognises who we are missing at Christmas, who is absent to each of us, and that we are not alone in that everybody has losses. That sense of the transience of life, but acceptance and gratitude for the love and the time we have had. I just found that that had a huge impact on me."
The single 'Blue Christmas' is available on all streaming platforms or by clicking on this link

Company Support
By supporting Light Up A Life, you are bringing comfort and relief to many patients and their families. Read the impact stories below to see how your donation helps.